Using drone imagery for surveys
13 February 2020
Following the government announcements in response to the recent outbreak of COVID-19 (coronavirus) we wanted to explain how HLP UK Ltd is handling the situation.
We will continue to deliver the services our clients rely on, while following the government's advice.
Our priority is of course the health and wellbeing of all HLP colleagues, our clients, suppliers and associates. To ensure this we will be moving to remote working by Monday 23rd March, and have set up the processes to ensure that client deadlines continue to be met and we operate as near normal. We will continue to review the situation daily over the coming weeks.
With regard to specific activities:
New site attendance and surveys
We will continue to visit sites, travelling in line with government guidance. We will carry out thorough risk assessments for each project and only attend when there is low or no inter-personal contact eg vacant buildings. We will continue to operate rigorous personal hygiene standards.
Client and project meetings
We will aim to hold most meetings via video conference or telephone calls to minimise face to face contact. Where essential site visits are required, we will fully risk assess prior to attending.
Drawing, design and reporting
All activity will continue as usual, with team members working from home.
We hope that this will reassure you of our capacity to continue with business as usual. Please do not hesitate to contact us if you have any concerns, or you want to discuss anything in more detail.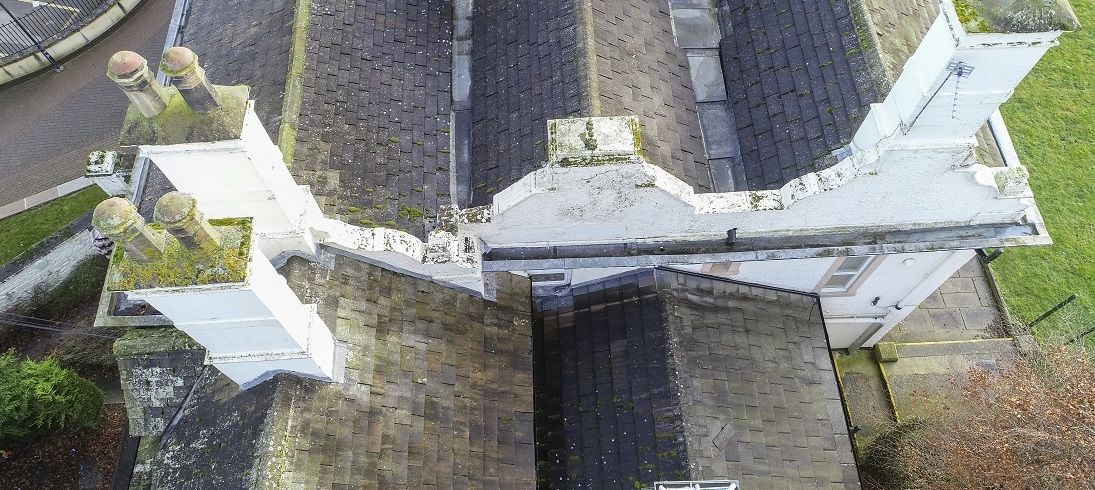 Over the winter we have been working on a series of building surveys for clients across the UK, where we have used a specialist associate with expertise in drone photography and filming. There are many benefits of using drone imagery on building inspections and surveys.
The drone is able to capture all the details of a complicated roof structure. The images show how this building has been extended over many years, resulting in lots of hard to reach valleys which can't be seen from ground level. The drone footage has given us a very close inspection of all of these awkward details.
The surveys have been completed in a very short space of time. The building in question is owned by a specialist education provider for vulnerable people, which meant that we had to be accompanied throughout our time on site. The client was therefore keen for us to capture all the relevant information in a relatively short space of time. The drone survey took just a few hours in total, making it a perfect solution for any building where operational necessity means the survey has to be completed quickly.
There are distinct advantages in using the skills of both surveyor and drone pilot on site at the same time. Our building surveyor inspected all the external elements of the buildings from ground level. He was then able to instruct the drone pilot to focus on specific roof defects and we were able to capture still photography and detailed video to include in the report.
The drone footage has provided not only detailed technical information, but also a good visual record of the site which can be shared with technical and non technical clients. It is also sufficiently detailed to provide a brief to a contractor, for example when tendering roof repairs. This survey has enabled the client to prepare maintenance schedules and associated budgets for the forthcoming financial year.
If you have hard to reach aspects of any property and need detailed information on the fabric of the building please get in touch for a quote and a rapid turnaround of your data.
Interested in working with us?
Get in touch